Embodying the principles of Extended Producer Responsibility (EPR) Regulations, eWASA has joined forces with the Mogale City Municipality to push forward EPR objectives and elevate recycling rates in all four recognized waste sectors.
This partnership involves eWASA's active collaboration with the Municipality to evaluate necessary infrastructure, equipment, and resources for effective waste management and recycling projects. Moreover, eWASA, along with the Municipality, is fostering new entrepreneurs in the waste economy through its Small, Medium, and Micro Enterprises (SMMEs) Development Programme. These new SMMEs are gradually being integrated into e-waste recycling. Additionally, eWASA will provide training and equipment for waste pickers within the Municipality.
In a forward-thinking move that could set a precedent for South Africa, eWASA is contributing two fully-equipped e-waste recycling containers, complete with recycling tools and storage facilities, for use by SMMEs identified by the Municipality at two landfill sites. These SMMEs will accept and process e-waste, selling the components to downstream recyclers. eWASA is also offering training and mentorship to these SMMEs to guarantee their success.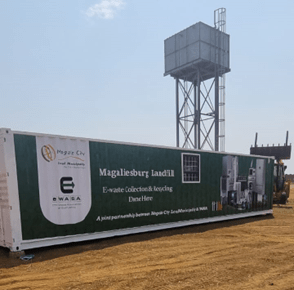 Two 40-foot recycling containers have already arrived at the Luipaardsvlei and Magaliesburg landfill sites and will be officially handed over to the Municipality in a ceremony at the Luipaardsvlei landfill site today, October 10, 2023. 
Alongside this, eWASA will provide personal protective equipment (PPE), bulk bags, and waste picker trolleys to the Municipality. These resources will enhance the work of waste reclaimers and SMMEs in collaboration with the Municipality at landfill sites, effectively elevating recycling rates and lessening waste directed to landfills.
This innovative partnership embodies the spirit and the letter of EPR Regulation, which advocates for collaboration to drive waste management and recycling programs that foster entrepreneurship, create jobs, and generate opportunities that uplift the youth, women, and individuals living with disabilities. eWASA remains committed to the ideals and objectives of EPR, effecting change in South Africa one Municipality at a time.