Our Directors support eWASA's mission to build a sustainable business and contribute to society through innovation, business excellence, and people development.
Keith Anderson
eWASA Founder and CEO
eWASA's CEO and founder has held senior executive positions in various industries including Banking, Petro-Chemical, Information Technology, Services and Consulting. With extensive international management and enterprise project development experience, Keith has served as an advisor to numerous cross-border government departments, multilateral organisations as well as major international and South African corporations.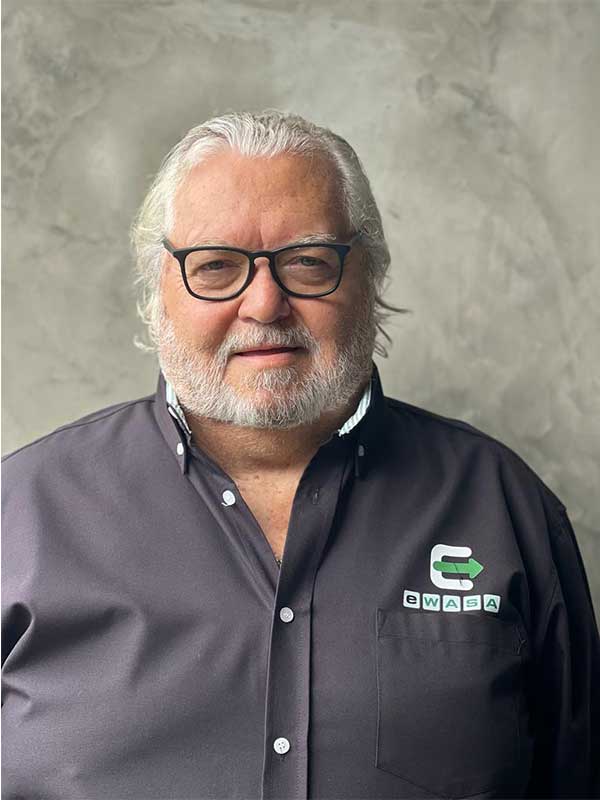 Keith is a specialist in the fields of environmental issues, waste management, information technology, restructuring and regulation in support of sustainable development. His focus has been on energy, research and development, policy and cutting-edge business models. This has resulted in requests from governments and multinationals for Keith to publish globally-distributed papers on environmental issues and waste management.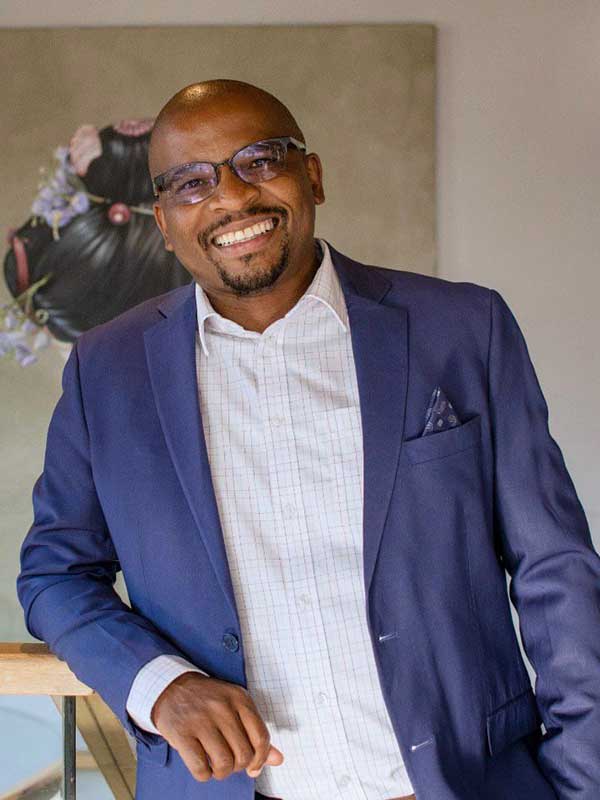 Andile Tlhoaele
Non-Executive Chairman
Elected as eWASA's non-executive chairperson in 2020, Andile also serves as the current chairperson of the B-BBEE ICT Sector Council and assisted in drafting the ICT Sector Code that was published in 2012 under the B-BBEE Act of 2003.
In addition to this, he serves as the chairperson of the MICT SETA 4IR Advisory Committee – the policy workgroup, one of the four advisory committees on the impact of the Fourth Industrial Revolution (4IR) on research, labour, and education.
Andile is a former member of the Presidential B-BBEE Advisory Council subcommittee on Instruments to Promote B-BBEE Verification and Sector Charters and a former chairperson of the association of B-BBEE professionals (ABP) and a former deputy chairperson of the MICT SETA board. Highly experienced in strategy development, innovation, and black economic empowerment, Andile owns and manages a number of companies in the ICT, Media Advertising and Communications sub-sectors.
Andre Venter
Non-Executive Director
André completed his qualification in Economics Management Analysis in 2004 at the University of South Africa. His experience includes 25 years in the automotive manufacturing, supply chain and electronics aftersales field holding various positions in strategic management, planning and operations.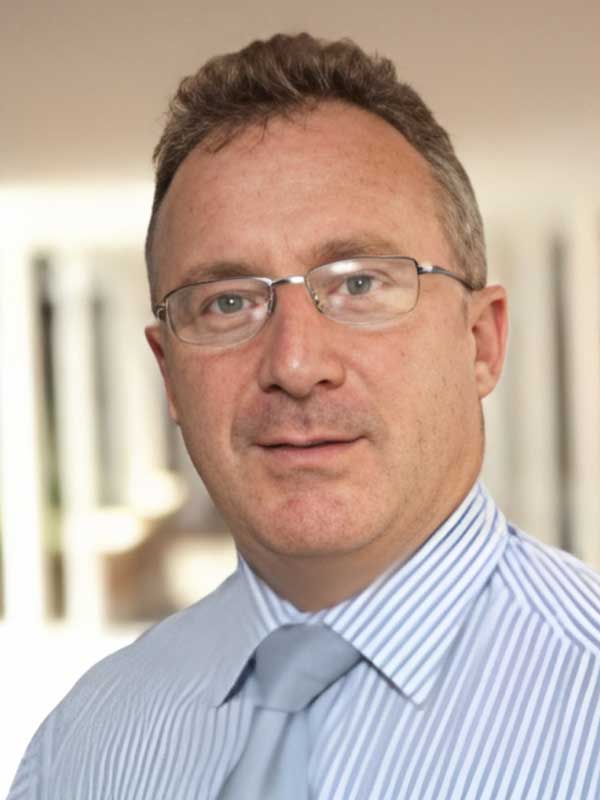 He headed Industrial integration programs as well as leadership and training material development in process knowledge and optimisation in the automotive and electronics sector.
Andre is heading an EEIP E-waste program with the aim of developing new enterprise and treatment methods for responsible disassembly, separation and treatment of waste in the electronics value chain in conjunction with MINTEK.
He is currently a full-time employee with Samsung Electronics and holds the position of Central Africa aftersales lead.
His passion for energy and waste reduction started in his early days in the automotive industry where his involvement varied from feasibility studies to enterprise development in line with "Zero to landfill" initiatives.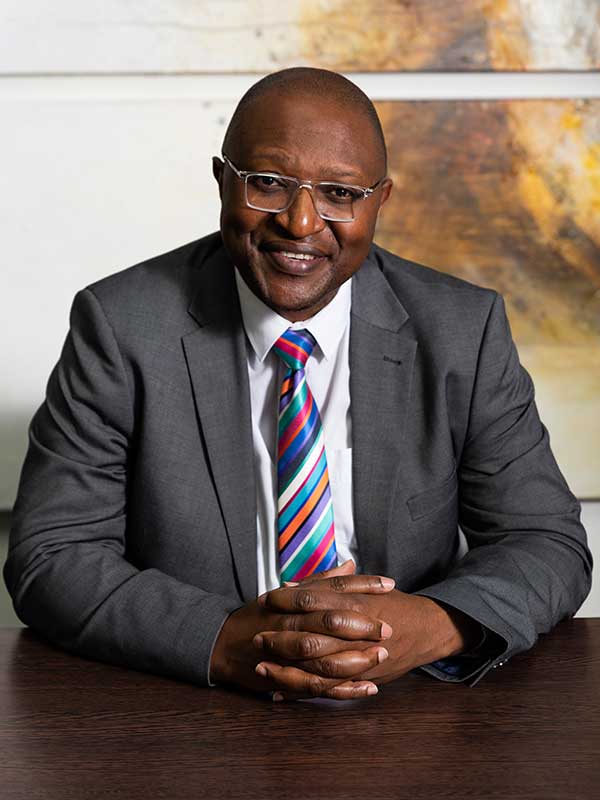 Gwarega Mangozhe
Non-Executive Director
Gwarega serves as the Clicks Group Head of Corporate Affairs with experience spanning several industries including Retail, Organised Business, Vehicle leasing and Speciality Chemicals in senior roles. He spent over a decade as the CEO of one of the leading industry bodies in the FMCG sector.
Marc Black
Non-Executive Director
Marc Black is the Managing Director and majority shareholder of Morgancoat (Pty) Ltd., the only South African-based manufacturer of pressure sensitive label material. The Head Office is based in Pinetown Durban.
What sets Marc apart as a leader is that his philosophies are simple – be honest, work hard and treat people as you would like to be treated, be it a supplier, customer or staff member. Marc has vast knowledge and experience in the self-adhesive market and is recognised as a specialist in his field. He has been invited to present at several global liner and label conferences.
With a deep commitment to sustainability and corporate social responsibility, Marc champions environmentally friendly initiatives by working with other industry players to develop new products and processes that work towards a sustainable future. He has several projects underway that could potentially solve many of the historical recycling challenges that have plagued the label industry.
The culture of Morgancoat is unique, and employee wellness is a key focus. The company offers employees 3 meals a day, supports a fully equipped gym and as well as medical insurance – all at no cost to the staff member. One of the employees recently commented that "we just never stop thinking" – complacency is not a word in Marc's vocabulary.
Stephen Muli
Non-Executive Director
Stephen Muli, is currently the Area (SSA-Sub-Saharan Africa) Sustainability Manager at BAT and Vice-Chairman at KEPRO(Kenya Extended Producer Responsibility Organisation-leading Producer Responsibility Organization in Kenya).
Stephen is a holder of a Bsc Mechanical Engineering degree from the Jomo Kenyatta University of Agriculture and Technology in Kenya and also a well versed engineer with regards to lean manufacturing processes such as TPM.
He is a solutions-driven, innovative and result oriented sustainability professional offering experience of over 25 years of success in implementation of  sustainability programmes and climate change tenets especially on waste management and circular economy in leading Global multi-national FMCGs within East and Southern Africa markets achieving Zero Waste to Landfill and at the same time growing job opportunities in the waste recycling space.  
The eWASA Team excels at their specialist fields and brings years of
experience and industry knowhow to their portfolios.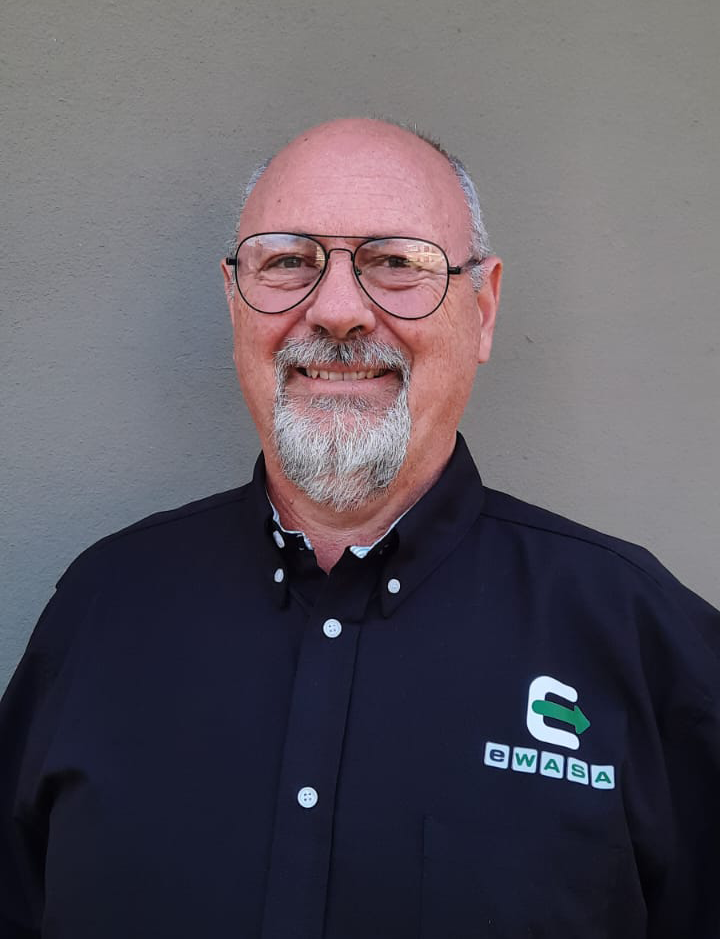 Malcolm Whitehouse
Operations Executive
With 15 years of experience in the E-Waste sector including Business Development and Compliance in ISO 9001, 14001, 27001, & 45001 certifications.  
Being passionate about true empowerment, cleaning up of our environment, recovery of secondary resource materials and facilitating the growth of the sector post Covid 19, I am confident that I can and do play a role in the  transition to the circular economy in e-waste management in Africa, for our e-waste sector.
Adri Spangenberg
EPR Specialist: Paper and Packaging Polystyrene, Paper and paper packaging, Rigids
Adri Spangenberg, is the Paper and Packaging Executive at eWASA with 29 years corporate experience in the Healthcare, Financial, Marketing and Construction industries. For the past 15 years Adri has been in the packaging industry within the EPR space and the CEO of two Product Responsibility Organisations.
She has a BA Honours in Marketing and in her career as an environmentalist and sustainability expert she is passionate about implementing extended producer responsibility regulations that go beyond just increasing recycling rates, but also contribute to the betterment of local communities.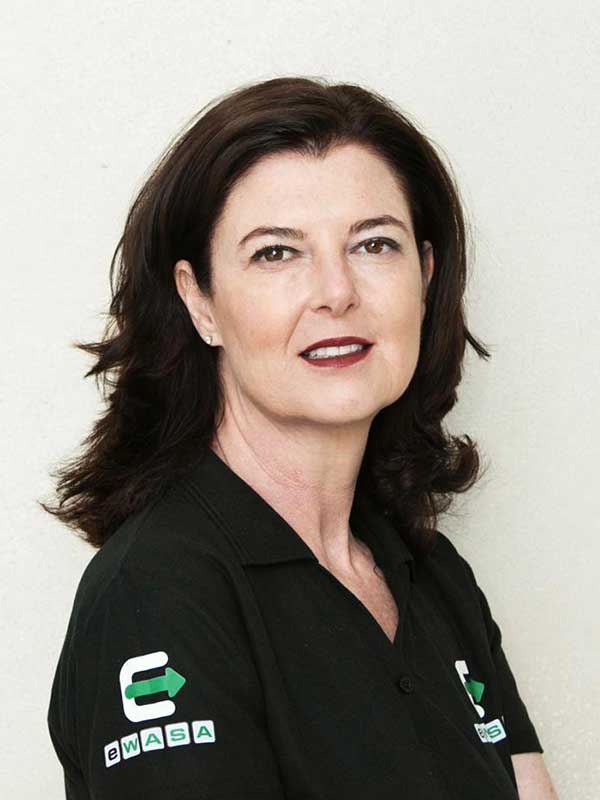 Linka Geustyn
EPR Specialist: Paper and Packaging Flexibles, Mult-layers, PET
Sustainable Packaging and EPR Specialist, Linka Guestyn, will be supporting eWASA, with specific focus on flexibles and multilayer material streams. Linka brings with her 17 years of expertise  as a packaging subject matter expert for a leading FMCG company. Following this, she started her own consultancy, Catalynx (Pty) Ltd, which focuses on enabling South African business to comply with the EPR legislation and to integrate design for recycling into their new product development process. Linka will be collaborating with the excellent eWASA team to effect significant change towards industry achieving the DFFE EPR Flexible and Multilayer targets.
Dimpho Hanyane
Project Coordinator/Administrator
Dimpho has a BSc (environmental and resource) studies honours degree (UL)  and  a project management certificate completed with the  National School of Government (NSG). She has experience in Policy and Waste Information Management and Environmental Education. She thrives to contribute in preserving the best of nature for the future generations.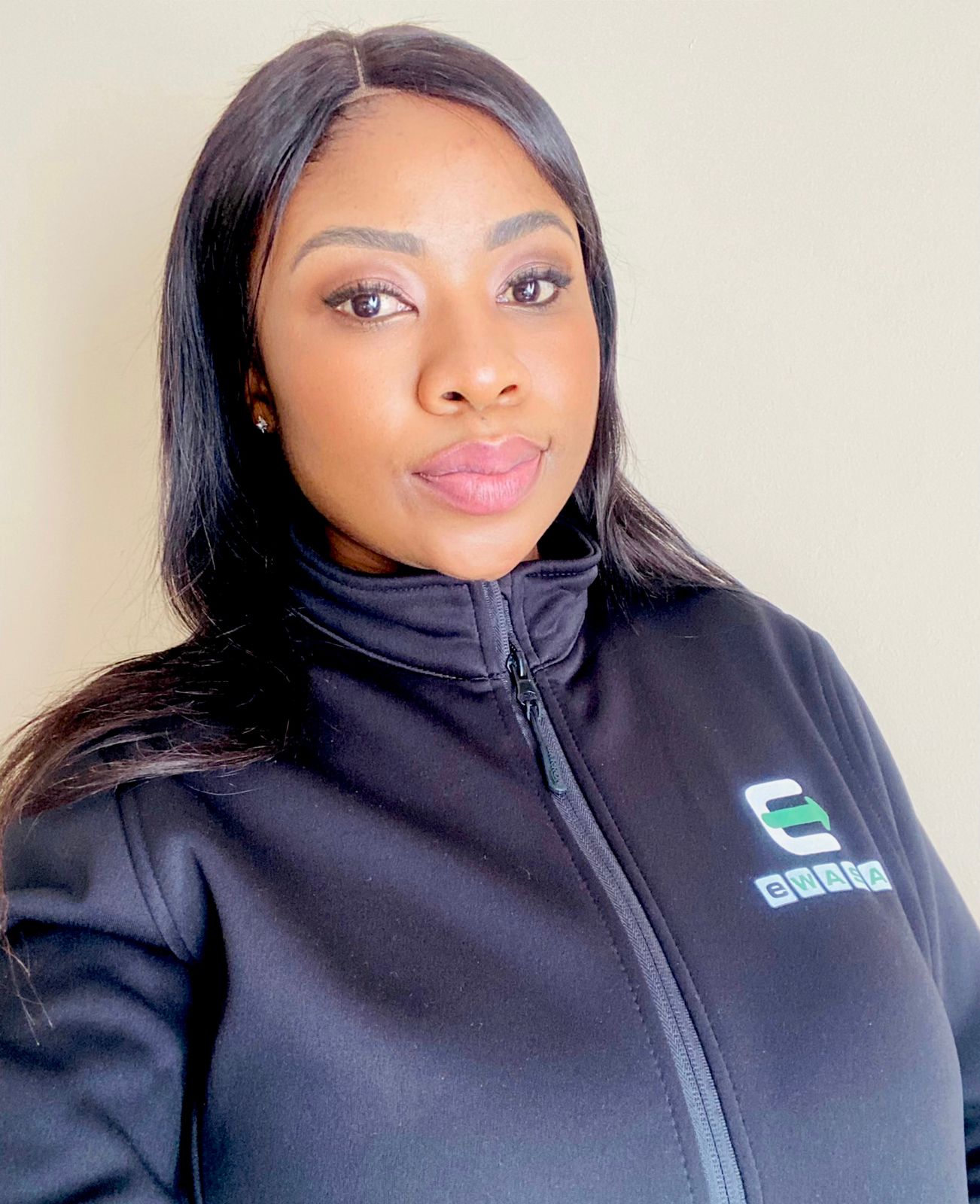 eWASA's Brand Ambassadors represent eWASA
Dumisani Siziba
Regional Brand Ambassador & Municipal Projects Manager
Dumisani Siziba is a seasoned General Manager and people leader with 25 years of corporate experience with leading SA companies in IT, Telco, Beverages, and Tobacco. He has held numerous leadership positions at companies like Coca-Cola, MTN and BAT.
His experience in multiple industries includes leading Operations, Supply Chains and Logistics. He has been leading Transformative Route to Market Projects across various African Markets for over 10 years. He revels in strategy formulation and its implementation – and has defined game-changing strategies for corporates over many years.
He studied CIS (Chartered Institute of Secretaries), a qualification centred on Corporate Governance, Auditing and Accounting. He is a Prince 2 Project Practitioner.
Dumisani is passionate about the Environment, Recycling and the Circular Economy – and is mobilizing industry, government and communities to drive sustainable waste management projects that empower communities whilst creating jobs.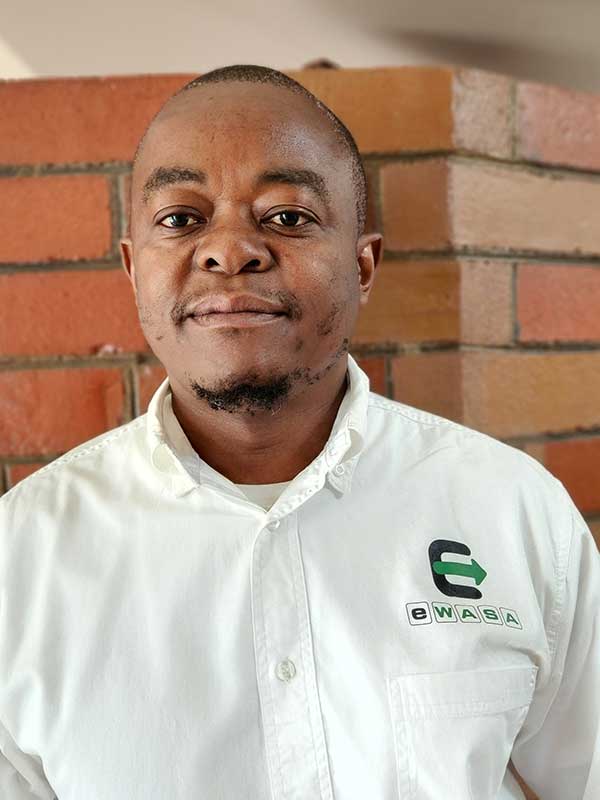 Ronny Zakwe
Brand Ambassador
Ronnie studied Customs Clearing and Forwarding and Computer Literacy.
He is currently working with Ewasa to run campaigns in schools and communities to encourage the youth to take care of nature by reducing pollution through recycling.
His hobbies are soccer and dancing as it's a way to ensure he stays fit and healthy.
Compliance & Audit Division
Lucille Charles
Manager - Environmental Audit & Compliance
Lucille Charles joins eWASA after five years of corporate experience in the Private and Public Sectors (Financial Services and Department of Forestry, fisheries, and the Environment).
She has experience in chemicals and waste information management, environmental policy development, and EPR.
Lucille completed a BSc in Applied Science and has a Honours Degree in Environmental Technology (UP).
She has a passion for good environmental governance, enhancing value chains in sustainable waste management, youth development, and family.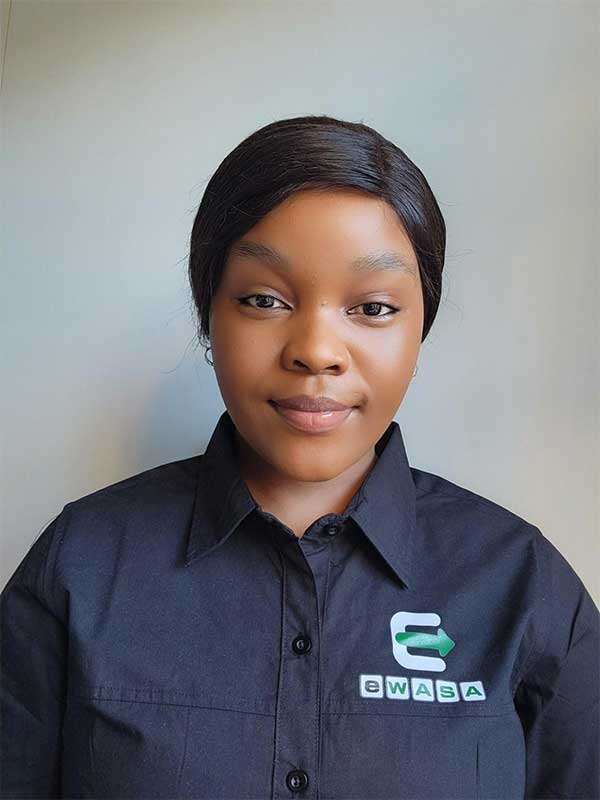 Thembeka Mthembu
Environmental Audit & Compliance Officer
Thembeka has experience in office administration and site data capturing in the private and public sectors. She holds a BSc in Life & Environmental Management (University of Johannesburg) and a project management certificate. She is passionate about nature conservation through sustainability and compliance, as well as youth empowerment in STEM fields.
Kgomotso Ncube
Environmental Audit & Compliance Officer
Kgomotso has a degree in Environmental sciences and experience in Waste Management Auditing, Compliance, Environmental Legislation application, and EPR in SA.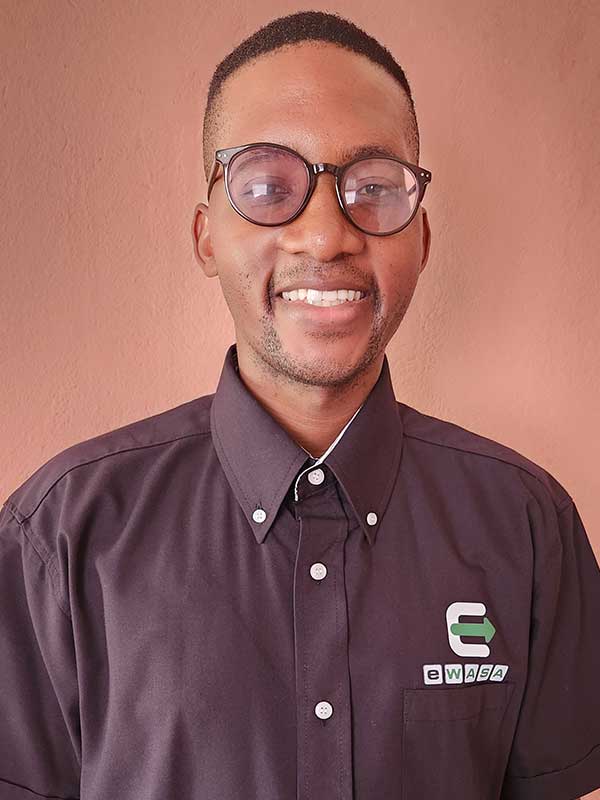 Office & Administration Division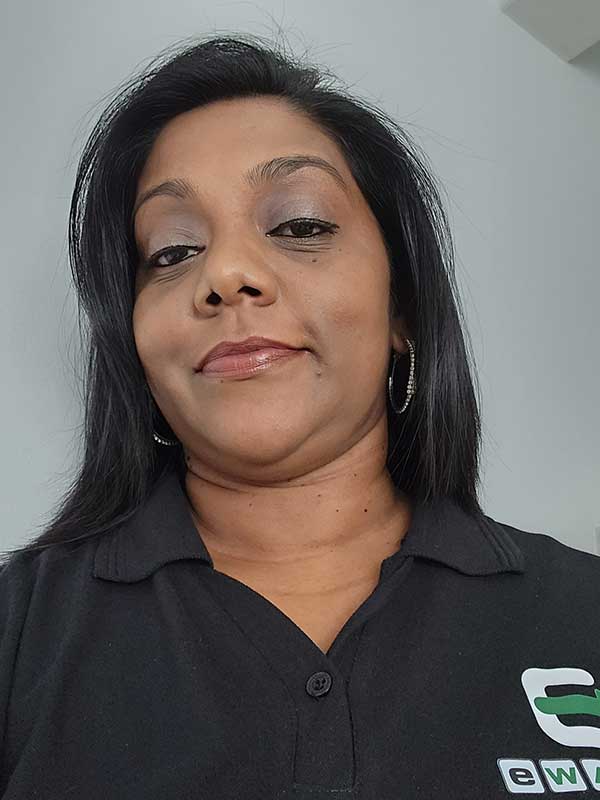 Shereen Joseph
Administration Manager
Shereen has a strong background in office administration, personal assistance, and office management. With over 20 years of combined experience in these fields, Shereen has honed her skills in providing exceptional administrative support and managing office administration effectively.
Shereen's career began with her passion for organization and efficiency, as she pursued a diploma in Business Administration. After completing her studies, she gained valuable experience as an Office Administrator, where she developed expertise in managing office operations, coordinating meetings, managing calendars, and overseeing office supplies and equipment.
Londeka Hadebe​
Membership & Administration Controller
Londeka Hadebe has been in the Retail Industry for over 3 years with an Administration background. Londeka is passionate, hardworking and she strives to be successful . She is currently completing her Diploma in Financial Management.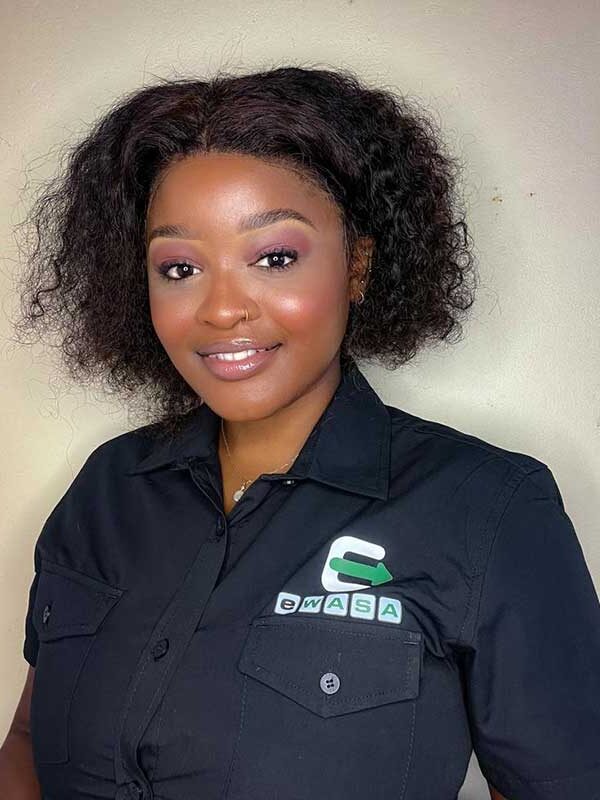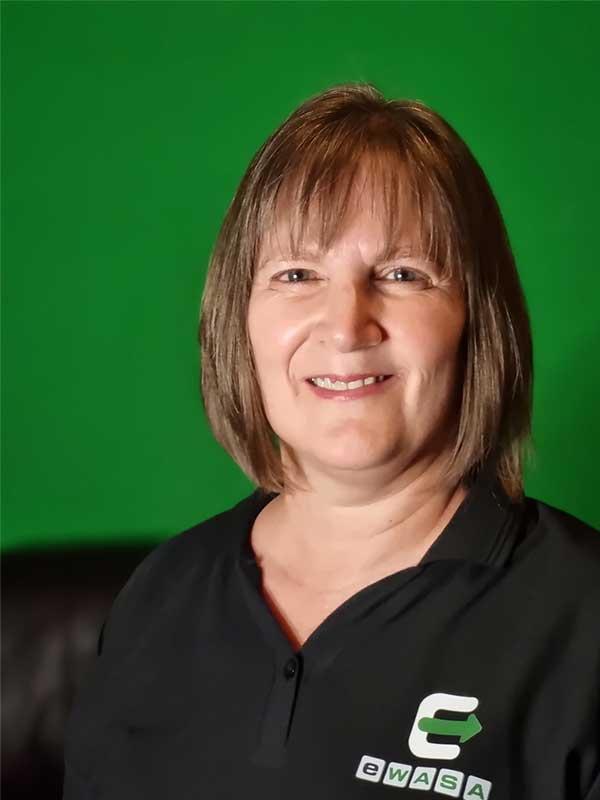 Lene Ecroignard
Research & Development
Lene has been working with eWASA since it's establishment in 2008. In addition to her research and development role she also manages our digital media.
Elaine Naidoo
Finance Manager
Elaine Naidoo is  highly skilled and accomplished in financial management with over 18 years of experience in the financial industry.